Testimonials
Our partnership with i2K has been very productive. They guided us through the development of our GRE, GMAT, LSAT, and SAT online courses, and they completed these large projects on time.

They continue working with us to add new features to the courses and modify the courses for the needs of different customers. For instance, they worked closely with The Boeing Company to give their employees access to the courses through the Boeing Firewall.

The Boeing Online Courses have been a great success. Because of the quality of the courses and the many interactive features, enrollment of Boeing employees in the courses has increased 10 fold over their previous courses.
One of the initiatives that we started was to develop large number of PMPs across the organization. We have been extremely successful in developing PMPs.

It is reflected in the growth of PMPs in the last FY 2006. The growth was more than 400%. Your contribution in this growth has been maximum.
Thanks very much. I scored a 760 on the GMAT, and I owe a great deal of it to you guys. Having a question popped into my inbox every day kept me thinking about the material consistently (not to mention the book, which was a fantastic resource). Thanks again
Allow me to convey my gratitude for all your support. Being at oniste I have been trying to hard for the last 8 months to complete my PMP. And I am happy to announce that I have finally taken the exam on 19th and sucessfully cleared it.
Really PM prep StudyDesk helped a lot for me in passing the exam. I have extensively practiced the questions in the practice exam which have increased my confidence level. I hope this will be more helpful for my other colleagues who are going to attend the exam in future.
I have started to study for my PMP certification and have also been using i2m study desk. I want to thank you and your team for providing us this excellent study aid. The guided approach to PMP certification has made learning very easy and interesting
Free Downloads
DynaWall 1.0

Now secure your PC with Dynawall's restricted Internet browsing.
You can now enlist sites that you wish to allow on your PC for browsing. Dynawall will prevent browsing unauthorized sites.
Note:
Dynawall is password protected
This program is FREE for distribution
Default password is blank. You need to define your own password
DOWNLOAD NOW

Click DOWNLOAD button or "Right-Click" on button and click "Save Target As..."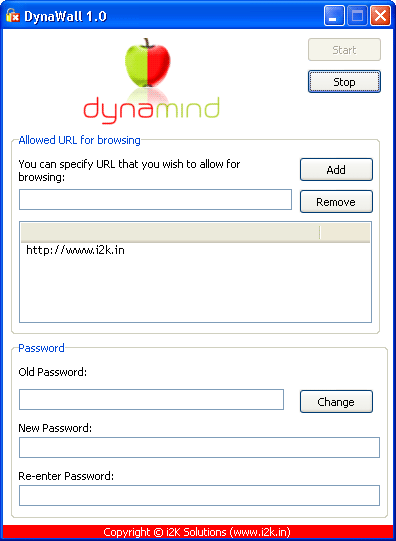 Adobe Flash Player
Download Flash Player Now

File size = 3036 KB
Click button to download or Right-Click on button and choose Save Target As....